For travelers who don't want to swim against the current of tourists who are making their way to popular tourist hotspots like the Eiffel Tower in France and the Big Ben in England, here are a few unique holiday destinations that you can include in your travel bucket list around the world.
Leshan Giant Buddha in China
This giant Buddha was carved in the mountainside in Sichuan in China. Measuring at 233 feet tall, this was actually built in the 8th century and is considered as one of the biggest images of Buddha around the world. Don't forget to stay in the Panda Inn where everything, from the interior design to the outfits the staff is wearing, are all pandas.

Pancake Rocks in New Zealand
As the name suggests, these rock formations found in the South Island in New Zealand actually resembles that of stacks of pancakes as the sea continued to batter the rocks for centuries. The pancake rocks are situated at the edge of the Paparoa National Park.
Mont St.Michel in France
The Mont St.Michel is basically a tidal island where it becomes surrounded by water when the tide comes in and land when the waters recede once more. Here you will find a Gothic Abbey, which was used as a jail during the French Revolution. This island is located near Normandy in France and is a unique holiday destination for an adventurous traveler.
Ice Hotel in Sweden
If the cold weather doesn't bother you much then a holiday trip to Sweden, specifically in Jukkasjarvi, is a must. Here you can stay at the famous Icehotel, which is situated 124 miles above the Arctic Circle. The perfect hotel to stay in during the winter season, the Icehotel, as the name suggests, is a hotel that is made from ice. Everything in it is carved from ice including the beds. A church, bar, and even the main hall are done in ice just like the glasses used at the bar. This popular world destination is fast becoming a go-to place for tourists looking or a unique experience.
Dean's Blue Hole in the Bahamas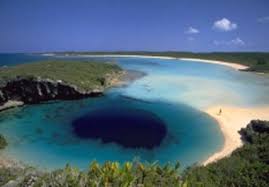 If you are into diving into the deep blue sea, then a holiday trip to Dean's Blue Hole is in order. This is the deepest hole in the world where its depth is measured at 600 feet. The name given to this tourist hotspot comes from the blue hue that is seen from the top of the hole. This is a great holiday destination if you want to go to unique places around the world.
These are just a few examples of where you can go to if you are looking for world destinations that offer completely unique experiences to travelers.